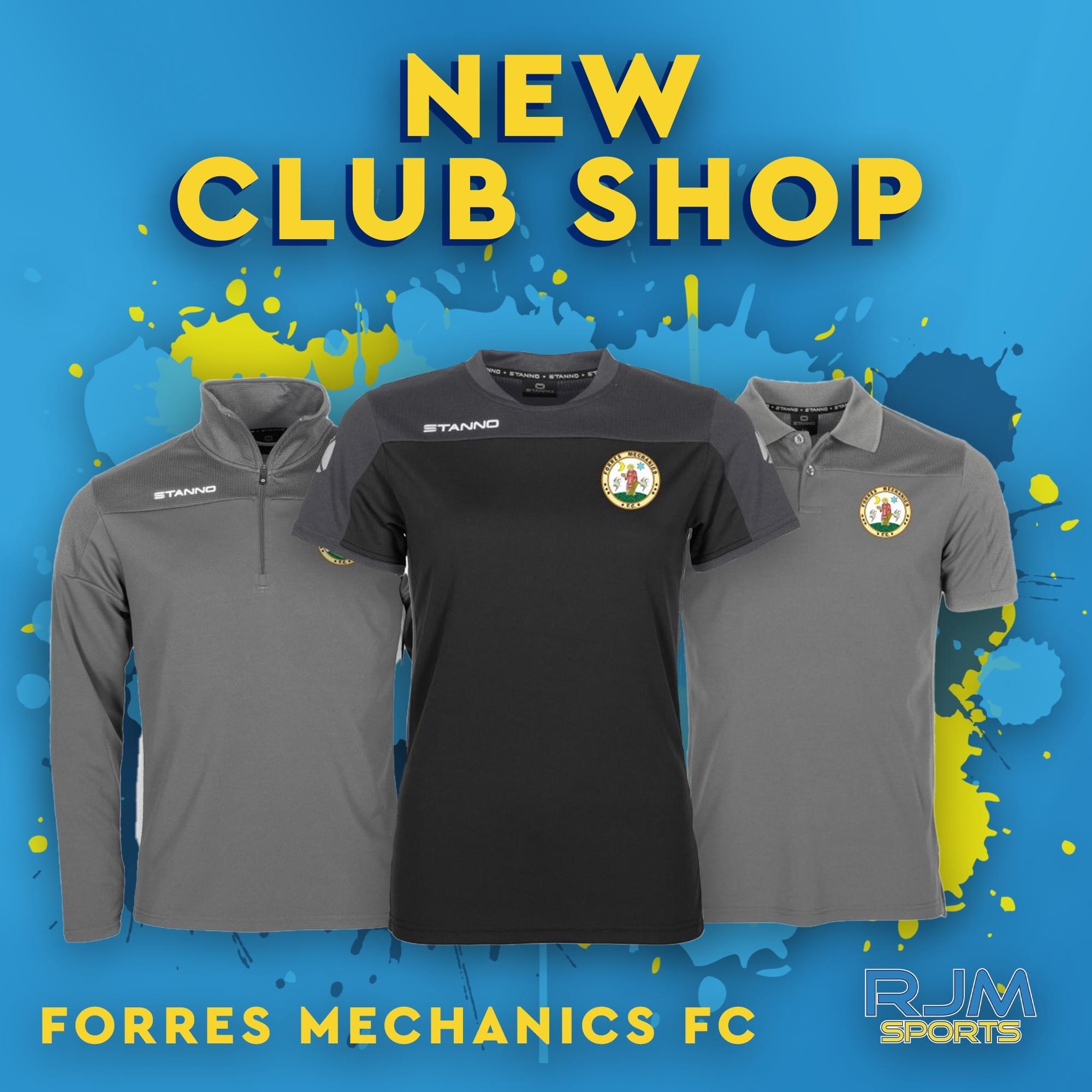 Image Slide 2
We are thrilled to be able to announce that local firm A J Engineering & Construction Services Ltd will be our new shirt sponsor.
The home kit has returned to a hooped design as worn during the league winning 2011/12 season we hope you like it
We are extremely grateful to Alan James, Graham Alexander & the team for their support!.
Image Slide 1
#WINAGRAND
CANS FANS LOTTO
The new Lotto is here. Play online from anywhere for your chance to win £1000 every week. Help the club raise much needed funds and support other good causes around town.
| | | P | W | D | L | F | A | Pts |
| --- | --- | --- | --- | --- | --- | --- | --- | --- |
| 1 | FOR | 14 | 3 | 3 | 7 | 17 | 23 | 12 |
Testimonial
To be honest I don't know where to start.. The Can Cans have always been my Highland League club, and had always wanted to see a match, so I thought it would be good for it to form part of my 60th birthday celebrations.

From the moment we arrived we were treated as if we good friends, from the gentleman on the door, the Chairman, and George made us feel at home. After a look behind the scenes we went upstairs for our meal, served by Lisa (sorry if I've got her name wrong) and her ladies which was fantastic Also a big thank you to  Dougie/Donny (sorry I just cant remember) who ensured we never went thirsty 😊.

After the match the fun continued, we met so many people who were willing to give up their time to chat with us (once again I cant remember the names), and meeting some of the players helped to make the day very special. The only sad part of the day was that my eldest son Craig, who would have been part of the group, sadly passed away last year. He would have loved the day, but we did raise a toast to him on more than one occasion.

Here are a couple of comments for members of my group:-

'Fantastic day, Made to feel so welcome by everyone there. Nothing was too much trouble. Food was great, drinks flowed. Lovely, lovely people'

'The chairman and all of the staff at Forres Mechanics FC we so attentive and kind we left feeling nothing but love for the club'

Thank you Forres Mechanics
Andy Cameron
Testimonial
We had a fantastic day from start to finish & were made to made very welcome.

On arrival we were greeted with people actually waiting for us to arrive.

We were given a tour of the changing rooms, pitch & boardroom plus a brief informative history of the Mechanics. This was followed by a wonderful 2 course meal with plenty to drink.

Absolutely nothing was too much trouble, we had more drinks waiting at half time and again at the end of the match - we loved it.
Andrew Bond
Testimonial
Hospitality was superb, couldn't fault it at all, you and the club went above and beyond to make sure we had a cracking day. We can't thank the club enough for having the wee ones as mascots and the signed shirts were the icing on the cake. We'll definitely be doing it again next season. Thanks again
Keith Simpson
Testimonial
Many thanks to the club for hosting us on Saturday.

A fantastic day/night was had by all.

Everything was superb from the welcome, the meal, the service and the surroundings. Can't praise Lisa and the bar staff enough. They look after you brilliantly.

Finally, everyone was saying that it's great value for money and it's always a day out that they look forward too.
Bruce Storrier
it was great to be back at hospitality and indeed we were warmly welcomed back by everyone involved. It was good to get oot the scarf, toorie and life member ticket again. We particularly appreciated all the Board members- Toshie, Sandy, Derek ,Ally coming over to see how we were faring. We all agreed that the quality of the food, service wine and the welcoming atmosphere were every much equal to Pittodrie!!
Alan Ralph
Testimonial
The hospitality was excellent, what makes it extra special is the wonderful people at the club.  When we arrived Lisa introduced herself, showed us to our table and took a drinks order straight away.  What a perfect welcome.   Throughout the lunch it was great to have the chairman come round and speak with all the tables. Tosh also checked back on us after the game, ensuring our glasses were topped up.   We also had the pleasure of the Treasurer, Sandy.   We  spoke with the very enthusiastic and friendly  stadium announcer, who is a wonderful character and so well suited to his role.  Alister Scrimgeour sold us our raffle tickets and was another great ambassador of the club. The food was tradition, wholesome, piping hot and very tasty.  We were speaking to the chef / caterer Donnie MacLeod who also embraced the friendly culture of the club, checking on satisfaction and offering top ups of additional meat and cracking roast potatoes.  The dessert was very well presented and tasty.  All washed down with a nice drop of house wine. Thank you Forres FC for a wonderful day at  your hospitality, I was only gutted that the boys did not win as I though their performance was worthy of at least a draw.
Craig Ewan
Testimonial
I was a hospitality guest of Alan Ralph last Saturday and thoroughly enjoyed the day. You have made the best use of limited space to create a warm and friendly atmosphere. The catering was of a high standard and delivered to the table promptly and professionally by the girls who were good humoured throughout the afternoon. We also appreciated the committee men taking the time to say hello. In short, an excellent package which I would recommend to anyone. Thanks to all involved.
Harvey J Aberdein
Testimonial
Thank you and the staff for the effort on Saturday. It was a great day and my entire team enjoyed and have said we must repeat in the day into the future. I can't remember having such fun and our production Manager has hurt his ribs laughing so much. The food was great, company was fun, the football was a good game, and the day was an entire success. The staff members that did not get to go on Saturday have already signed up for the next we can attend as we told them the stories and sent them pictures of what I can only again describe as a brilliant event.
David King
Testimonial
Everyone was so friendly, the food was great and we were well looked after, I would thoroughly recommend Hospitality at Forres Mechanics FC  as being great value for money with the Club providing a genuinely unique experience delivered with a friendly and personal touch.
Professional Firm of Chartered Surveyors
Testimonial
Both Nicola and myself had a great weekend in Forres and it was such a lovely warm welcome we received from all at Forres Mechanics FC.

Your hospitality was 1st class and we look forward to our next visit.

We wish you all well with the rest of the season.
Tommy Boyle and Nicola Thomson
Testimonial
It was really good and everyone enjoyed themselves. Donny's team and Lisa and the girls do a terrific job at making sure everyone has a good day. The welcome and hospitality at Forres Mechanics was superb!. From the moment we arrived till the moment we left Forres Mechanics made sure we had all we needed. It was a great day, we'll be back!.
AJ Engineering
Testimonial
Another great day at Mosset Park for our annual get together taking in the superb hospitality that is on offer at FMFC and meeting up with many Ex and still operating Caterers, and a couple we've made honorary members. Met on arrival by our host, the new Chairman, Tosh, an ex player, who gave us a run down of the day's activities and the first of many hospitable drinks were served and shown to our table. Tosh, then completed a a brief chat of the club and how the club is rebuilding after last season's managerial merry-go-round. This was closely followed by an extremely delicious three course meal; stuffed chicken with tatties and veg, warm brownie with ice cream, with coffee to end. Quick and efficient service to the full house of attendees, ensuring all meals reach each table in the best possible delivery. Everyone mentioned how tasty the food was, thank you to Donny and his team, not an easy task to keep 9 caterers happy. Lisa and her team, Megan and Erin, worked tirelessly throughout, keeping everyone on our table well watered throughout the whole day, making sure that everyone received their fair share of beverages, ensuring that alcohol and non-alcohol drinks were offered as customers preferences altered. Extremely friendly and professional throughout, thank you. The manager appeared and explained not quite the formation for the day, but how he was transforming the team from last season, with young local and loanee talent. Fighting hard against the top teams and with a bit more luck and experience, will match any of them and make it hard for all top 6 teams to take the maximum numbers of points from FMFC. Mentioned that since the 5-0 win for the Cans at Nairn in early season, this would be a different game. The game certainly lived up to how the manager had described it, and the Cans twice threw away, a 2 goal advantage, to lose 4-3. Great game for the neutral, and eight of us, as one of the group lives in Nairn and went away with a big smug grin at full-time. One great comment on the Sunday was, what a great day, friendships rekindled, forget the result, the best result was, No Headache today, lol. Another amazing day, brilliantly hosted by all at FMFC, superb value for money, and we will be back. We all wish the Cans all the best for the remainder of the season. Thank you
Tony B and the TopCats
Testimonial
On Saturday 26th November we were in a group of eight family members celebrating the fiftieth birthday of one of our sons. The venue selected by 'The Birthday Boy' was Mosset Park. We read some of the reviews on your website and had comments from friends who had already experienced the Hospitality at the ground, everything was very positive and we were looking forward to it. On arrival it soon became clear to us why there have been so many complimentary comments. We were warmly greeted by the Chairman, shown to our table and offered pre-lunch drinks from the bar. The meal was excellent in terms of quality, quantity and efficiency of service. It was interesting and informative to hear the pre-match thoughts of the manager too. The service provided by Lisa, Megan and Erin was very efficient and friendly, my glass was seldom empty!. The match result was disappointing but that did not detract from what was a very enjoyable experience in a very pleasant setting. Our thanks to all those who made sure everything went smoothly.
Harry and Sheila Black
Testimonial
The hospitality at Forres Mechanics FC is second to none! - it provides excellent value for money. Lisa and the girls provide first class service and the greeting from all of the Board members all greatly welcomed!. Will definitely be back.
Graeme Duffus
Testimonial
"My day as a Forres Mechanics FC mascot by Crawford Smith, aged 59 and a half. Having just retired from working for Forestry and Land Scotland (previously Forestry Commission) on Friday, I travelled north to stay with friends in Inverness for a small retirement 'do" and with every intention to travel 'home' the following day. Saturday started with a taxi ride from Inverness to Forres (thanks Scotrail) so already the day had started unusually. Chris Innes, my former Boss and Robert McKendrick (Inverness Computer Centre) had already informed me that we were "doing corporate' and …. NO TRAINERS (ironically, if I'd know what was to follow, they'd have come in right handy) Now, I've been at Mosset Park many times, but never to corporate hospitality, so this was a whole new experience and one I was looking forward to immensely. On arrival we were greeted by 'Tosh' who escorted us up the the lounge and introduced us to the bar staff who assured us they would attend to our every need (they didn't disappoint!) After a few drinks, we were served a great chicken dinner and then chocolate cake and Mieles ice cream, sumptuous, and it was about then that I was told I had 'duties to perform' but had no idea what that would be, and I thought, at best, I may be asked to award a Man of The Match or something. Tosh appeared around 2pm and asked 'Does he know yet, has he any idea?' Chris 'No, not yet…' Tosh disappeared and returned with a coat hanger adorned with the famous Chocolate and Gold and handed it to me, still none the wiser I looked at him 'what's this for?' I enquired, Tosh said 'You're todays mascot, you're leading the team out, it's a special day, it's Knighty's 500th game'. I couldn't believe it… in fact I thought I was going to be sick (absolutely no offence to the caterers!) Tosh 'You don't have to wear it all, you can just put the top on' quickly followed by him, and everyone else saying 'C.mon… you're only here once!'. Ever since I was a wee boy, all I ever wanted to do was play for Forres, now while that ship may have sailed, here was a once in a lifetime chance to be ON THE PARK (legally) for the Can-Cans, even if just for a few minutes. I decided, despite wishing I was 2 stones lighter, I'd do it (lockdown ain't been kind!) I was taken down and invited into the dressing room, I stood in the corner and listened intently to everything Stevie MacDonald said, despite being 6ft 4" I just stood in the corner like a wee boy, spellbound. One the guard of honour was formed for Big Stuart, I walked out with the captain, Martin Groat. My heart was beating so fast I thought it would burst, and then Big Stuart made his entrance rightfully took a bow. I returned to the lounge changing into a much more becoming outfit and savoured a marvellous 3-0 win, and a clean sheet for the big fella, Finally, after all these years, I made it on to the hallowed turf, kitted out too. Now I've been away from Forres a long time and I follow Hearts, I've seen them beat Hibs 4-0 in a Scottish Cup semi and then of course 5-1 in the final itself, but this… THIS possibly eclipses even those games. I'd like to thank everyone connected with Forres for making Saturday such a memorable day and my old school pals Ross and Iain MacLennan for being there too to help me enjoy my moment and my friends Chris, Robert and Stuart Milton, even if they did feed Tosh and Co a line about me being a H1b5 fan and enjoying cocktails, nothing could take the shine of Saturday…"
Crawford Smith
Testimonial
It was a fantastic day. What a laugh we had. Really impressed with the changes inside the stand from the last time I was there. Please pass on our thanks to the gorgeous Lisa and her daughter who looked after us so well. What a fantastic day we had....just what the Highland League is all about. I had never met Kevin Walker before, I obviously knew him but we both said it was like we had always known each other and that was what the whole day was like. Highland League Hospitality you can not beat it....and only 12 more to do!!.
Jim Oliver
Testimonial
We had an absolutely wonderful time. Thank you so much! From being shown round the changing room, the board room and the hospitality provided by the officials and ladies looking after us behind the bar the whole day was fantastic. We left them a tip to say thanks and then of course The Mighty Cans done us proud on the pitch! Just lucky for us as well for it to be Stuart's 500th match! Truly wonderful day and please pass on our thanks to everyone. We will definitely be back and good luck for the rest of the season. See you soon ❤ 
Scott and Heather
Testimonial
We would like to thank Forres Mechanics for the hospitality we received on Saturday. The food, drinks and service were all excellent. It's great to be able to do something like this locally and at a good price too. Everyone thoroughly enjoyed their day - it also helped we were 3 nil up at half time!. Thanks again.
Gerry Verner
Testimonial
We all had a fantastic day with no complaints whatsoever. The entire staff who looked after us were fantastic. I don't think there is much more that could be done to improve things however, maybe as a minor suggestion, it would have been nice if we could have put a bet on before the game but I am not sure about the gambling rules. We will be back without doubt.
George Sewell