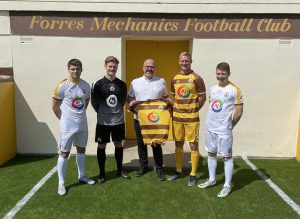 We are thrilled to be able to announce that local firm A J Engineering & Construction Services Ltd will be our new shirt sponsor.
The home kit has returned to a hooped design as worn during the league winning 2011/12 season 🏆
We are extremely grateful to Alan James, Graham Alexander & the team for their support!.
This will be worn for the first time on Saturday 29th July when we kick-off the new 2023/24 season at home to Strathspey Thistle FC tomorrow
Please see full article below for quotes from Alan James, Graham Alexander and 'Cans chairman David MacKintosh.
Thank you 👏🏻👏🏻👏🏻
#monthecans 🟤🟡
⭐️⭐️⭐️ New Shirt Sponsor ⭐️⭐️⭐️