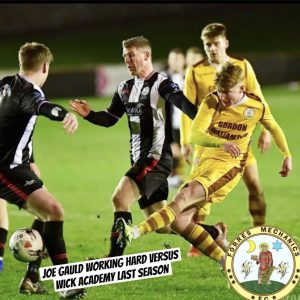 Joe Gauld is our first team's left back, but you haven't seen him on the pitch this season. The reason for that is Joe picked up a nasty injury during pre-season.
With incredible bad luck Joe has stayed motivated when most wouldn't, supporting the team when he can and working his way to "getting back out there".
Greg asked Joe about it all –
Joe , what a time you've had this season with your injury – can you tell us about it , how it happened, when & what was it and how has the whole process been ?
A : Nightmare start getting bad injury during preseason. Just in a preseason game away at Nairn, went in for a tackle right at end and just jarred it, so after seeing physio ended up getting a scan and found I had torn the cartilage and bruised the bone in my knee.
Saw the knee specialist at hospital and fortunately didn't need anything further done and so it was just a case of working on my rehab in the gym every week. A long process building it back up but I'm finally back jogging!
When you initially saw the knee specialist – Was that when you were told how long you'd be out for ? What was that like hearing that ? Plus – What's helped you stay focused and motivated through all of this ?
A : After getting the scan back I saw the physio , so knew then it was going to be a while. I had an injury start of last season with a similar length out so has just been the absolute worst luck – although probably helped doing rehab this time. Watching the team has definitely helped me as seeing them do well just makes you want to get back on the pitch as soon as possible.
3.5 months of rehab so far Joe – what did it involve?
A: There's not much you can do to start with because of the bruising , but then after couple of weeks you just get back into the gym building up the strength around the knee again. I progressed that until I could start to run on it again.
Have you targeted a date to be back training or are you just taking it as it comes ?
A: Not necessarily an exact date but hopefully no setbacks with the running and then I can start kicking a ball again so not too much longer.
You've done really well Joe – keep it going ?⚽️???