Thanks to the funds raised as part of our weekly Lotto, the club was delighted to donate £1000 to the area's food bank.
Our 'Cans Fans' Lotto' donates to local charities each year and this year it has been decided to support Moray Food Plus.
Can-Cans vice chairman, George Alexander, confirmed the board of directors made the decision following suggestions by board members. He said: "It was felt that, under the present conditions of increasing pressure on household budgets, this would see the greatest benefit to the most disadvantaged at this particular time of year."
Lotto cheque was presented by Lotto organiser Graham Alexander with with some of the club's committee members.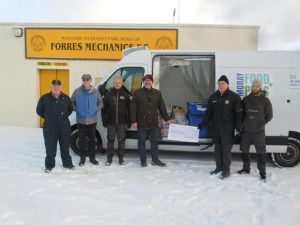 The club is spending the majority of the donation on essential items for the charity, in line with its advent calendar and 12 days of Christmas commodities. These include tinned fruit, rice pudding, custard, puddings, spaghetti in tomato sauce, baked beans in tomato sauce, pasta shells, tinned tuna, tinned corned beef, ham, pork shoulder and meat pastes, meats, tinned peas or carrots, tinned potatoes of dried potato powder, One pot noodles, One Pot pasta pots, biscuits, sweets and chocolates. Also, UHT milk, pasta sauce, curry sauce, cereal, rice, hot dogs, tinned vegetables, Mug Shot sachets, deodorant, shower gel and shampoo. The items will be used for hot or cold referral parcels.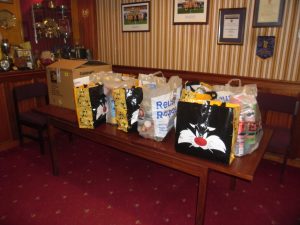 Moray Food Plus is supporting people who find themselves in crisis through personal circumstances such as illness, welfare reform, low income, and unexpected bills.
The service works on a referral basis from agencies such as social work, housing and health but also accepts self-referrals.
Once a referral is received a team of volunteers make up a food parcel containing three days' worth of food to be delivered to the referrer, an agreed collection point, or for collection from the office at 203 High Street, Elgin.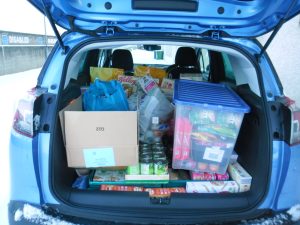 Cans Fans' Lotto was launched in 2019 to enable investments in the club and to benefit the wider community. As always the club greatly appreciates all those who participate in the Lotto which allows us to make further donations to other local charities and we would encourage others to join.
A lottery line costs £2 and if a winner matches all four numbers, they scoop the jackpot of £1000. In addition to the lottery, prizes of £100, £50, two of £25 are given out each week as a raffle draw. Each week, the jackpot increases by £100 if the jackpot is not won until a maximum of £3000 has been reached which is then drawn as part of the raffle.
If you would like to join the Lotto please click on the https://lotto.forresmechanics.net for the form and the T&Cs – alternatively if you would like a form posted to you or for any queries please email cansfans@outlook.com. Alternatively please speak to a member of the committee as forms are available on match day.
Thank you 🟤🟡